The Company
Skyscope Creative is a startup video marketing agency based in the Greater Boston area, founded by Sam Shepler, Gabe Gerzon, and Alex Dunn in 2012.  Their mission is to provide creative marketing video for innovation companies, from growing startups to large technology firms.  With backgrounds in filmmaking and business strategy, they are devoted to producing cinematic video that delivers business results.
The Philosophy
Skyscope believe the best marketing videos communicate with a unique balance of style, story and strategy.  They find their work style of individual "sprints"  bracketed by team collaboration and dialogue is ideal for creative productivity.  Rather than rely on discipline, they believe in creating an optimal productivity environment… so they literally took things into their own hands and built their desks from scratch.  This allowed them to get an ideal set up in a small space on their bootstrapped budget.
The Space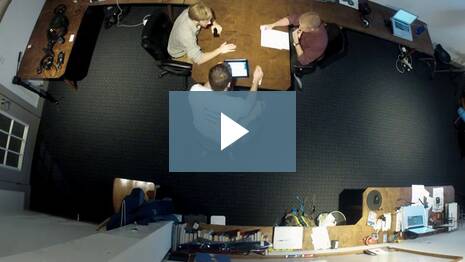 The Features
Independent personal workspaces
A shared space to meet as a team and collaborate with a whiteboard
A comfortable, casual space for meeting with clients and visitors
A clean, modern style with a consistent aesthetic
Built-in "overflow" space with future employees in mind
What We Love
Total DYI workspace on a budget

The collaboration area just a quick scoot away
Built in "overflow" space – a great feature since they just hired 3 additional team members.
What part of their office do you like the best?
(Interested in having your company featured? Drop us a line at realperson@printfection.com.)